Domain registry – the what's and the whys?
Nowadays the internet and websites are very much a part of everyday life. Every imaginable person, place, and thing has a web presence, and the extent of this presence is ever increasing. But behind every single web presence is a website and behind every website is a domain name. But what exactly is a domain name and where do they come from? It is not the case that anyone can decide on a name for their website. There are regulations, bureaucracy, and administrative procedures involved. This article will take you through the steps in the domain registration process as well as some of the domain registry services available. There are a lot of similar sounding terms in this area and therefore these can get quite confusing and difficult to differentiate. Finally, this article will also outline some of the most important terms that you should be aware of.
Registrant
The whole process begins with a registrant, i.e. the individual, business, organization, etc., looking to establish a website and web presence. As a registrant, once you have decided what domain name you would like to have, you submit your application to a so-called registrar. It is possible to undertake this process without going through a registrar but in this case you must then go through an organization that would still be utilizing a registrar's reseller program. There is also a good bit more to a registrar than just the initial registration process, as they are also there to assist with things like renewal, transfer of a domain, the termination of a registration, and generally all round domain registration info. In terms of managing the settings of their domain, this is also done through the registrar, who communicates the information to the registry, where it is updated and stored in the respective database. The communication between registrar and registry also works both ways as the registry provides guidance to the middle man and grants them authority when it comes to things like adding, altering, or deleting information.
Registrars
Registrars are basically the middle man in this process, as they link the individual or organization (the registrant) with the domain registry. In terms of choosing a registrar with whom to engage with there are quite a few choices out there. These registrars differentiate from one another based on several criteria and what sort of domain registry services they provide. When deciding which registrar to go for you should consider the following criteria: price, duration of the registration, transfer policy, customer support, etc. One.com is an example of a registrar. They offer a range of packages, each with its own monthly subscription price. These packages cater for everything; from the most basic websites and blogs up to very large and complex web presences. Depending on what sort of domain you want, you pay a different price; e.g. a domain ending in .one is cheaper than a domain ending in.com.
Domain registry
Above the registrars then is the domain registry. This is an organization that is then in charge of the general administration of a top level domain. They make decisions regarding registrations, settings, zone files, and provide registrants with all sorts of information. Other responsibilities include resolving disputes between different parties and also imposing what are called third-level domains, e.g. .co.uk. Some registries are responsible for just a single top level domain; e.g. One.com, the registrar mentioned above, also operates as a registry for .one.
Verisign
There are also registries like Versign that manage multiple domains, including .com as well as .net. It is no real understatement to say that Versign is a giant in the world of DNS services. According to their own stats, they claim that 56 percent of DNS hosts globally are dependent on their .net and .com infrastructure. The sign of a good domain registry is not only recognizing and adapting to changes in the online world, but also being able to predict what will be required in the future in order "to identify growing and emerging markets that require expanded infrastructure services to enhance reliability and responsiveness." This is crucial in an online world where systems and trends tend to change quickly. Therefore, being able to react quickly and predict these changes will put you one step ahead.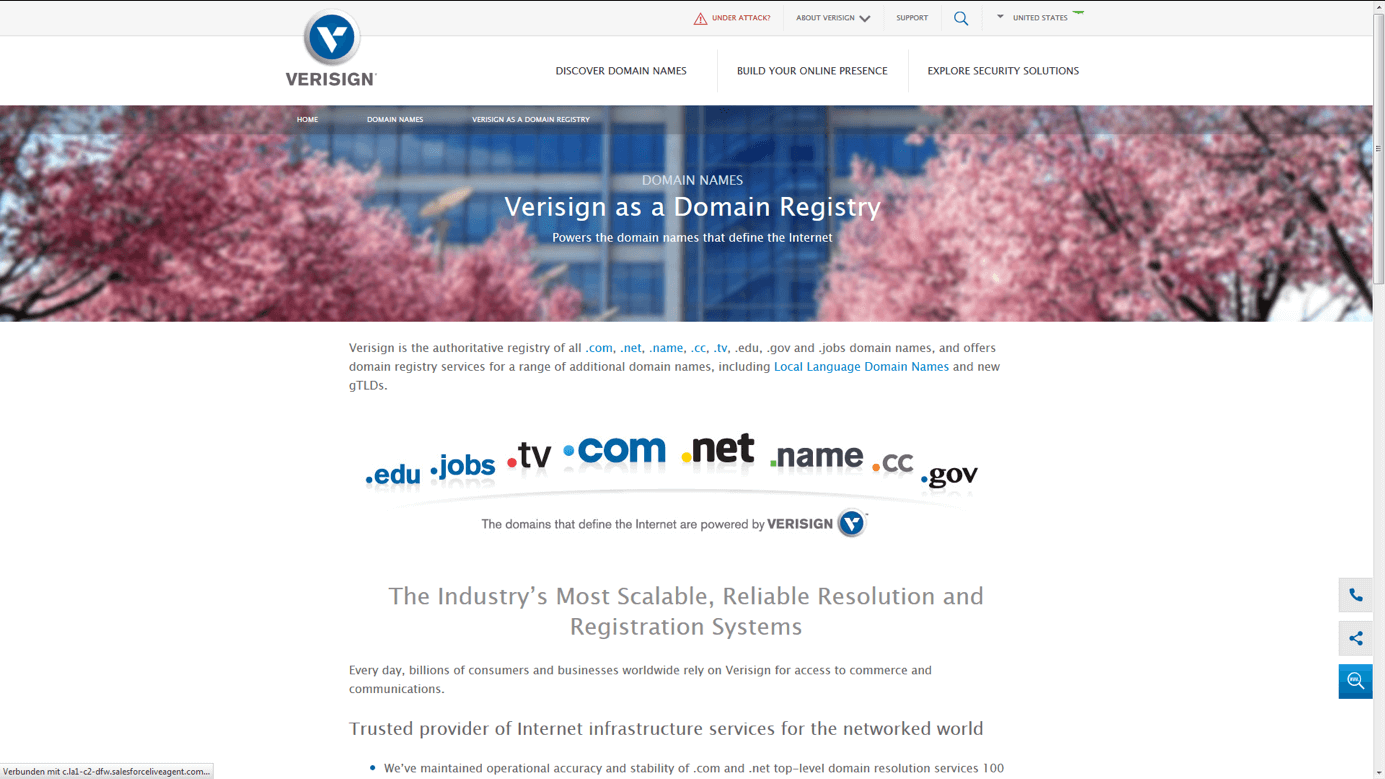 If the whole process can be viewed as a sort of 'food chain' then above the registry is the IANA (Internet Assigned Numbers Authority), who allocate the authority for sets of domain names and oversee the overall structure of the online world.
Summary
At the end of the day, there are many layers to domain names and the administration and bureaucracy involved and there are different bodies that then have responsibility for the various aspects. When it comes to the structure and systems within the administration of the world of domains then domain registries are integral – they are the pillars that protect and support these systems. Anyone looking to establish an online presence not only needs to engage with these registries but should also be very aware of what it is they do, and where they fit in the system. Domain registries are undoubtedly a very important cog in the huge machine that is the online world.