Transfer your domain to IONOS in 3 easy steps
Request code
Request an authorization code from your current domain provider or registrar and receive it via email.
Enter domain
Enter the domain you want to transfer in the field above.
Confirm transfer
Enter the authorization code on the next page, and confirm the transfer by clicking the link in the email you receive.
Why transfer to IONOS
Besides the benefits that come with every domain you register with us, there are even more reasons to transfer your existing domain to IONOS.
If you are an existing customer, you can save a lot of time and stress by having everything centralized in one place.
With our easy transfer process you can be sure your domain is transferred as quickly and hassle-free as possible. Our professional 24/7 support team is always available for questions.
The transfer process is completely free of charge. The standard fees, which all new and existing customers incur, such as renewal fees, still apply. Domains are automatically renewed for 1 year when you transfer to IONOS.
Transfer to IONOS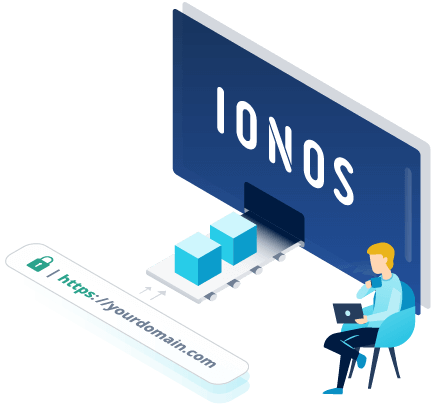 Benefits of registering a domain with IONOS
Transfer your domain to IONOS and benefit from our comprehensive features.
Email
A professional email address (for example: me@mycompany.co.uk) connected to your domain with 2 GB of mailbox space to start. Upgrade anytime for more space.
Security
For reliable protection of your website visitors and to increase your ranking on Google, one Wildcard SSL Certificate is included per contract.
10,000 subdomains
Up to 10,000 subdomains to customise and structure your website, for example: news.mycompany.co.uk.
Easy setup
One-click activation makes it easy to connect your domain with your email, hosting or social media profiles.
Domain lock
The domain transfer lock ensures your domain cannot be transferred by unauthorized third parties.
24/7 customer support
Our professional, knowledgeable support team is always available for help and advice, 24/7.
Your personal consultant
Helpful advice from a single point of contact. Exclusively for you. Experience customer service on a whole new plane. All this and more, free.
Learn more
Domain Transfer
FAQ
Your domain name defines your site and is located in the address bar of your browser. Each domain name is provided for by a host or a registrar that has registered the domain with ICANN for a small fee. Anyone can own a domain name: large enterprises, medium-sized businesses as well as individuals for personal projects. Each domain provider offers a different range of products and features and, like everything, a different quality of service.
There are a number of possible reasons to transfer your domain. For instance, you may wish to switch to a provider to get better value, more features, and more security, or because you're having problems with your current host. These elements can each vary greatly and it is important to consider the various domain transfer deals before undergoing the domain transfer process.
You can transfer a domain at any point in time provided you have not altered the domain details in the last 60 days. All that is required is your authorization code, which can be easily obtained from your current provider (see above). We provide a step-by-step guide to take you through the domain transfer process, ensuring a smooth and stress-free transition.
Your online presence is a vital factor in the successful running of a business. Today, it's a lot more than just a business card, it is your company branding, your marketing and your PR rolled into one. Providing your current and potential customers with an easy-to-use and aesthetically pleasing website is key. It is therefore important to ensure that your domain provider is the best choice for both you and your business. Your host should suit all your company needs and provide a satisfactory round-the-clock service. If not, it's well worth considering transferring your domain name to another host. The features offered, the quality of those features, the level of service, the reliability and finally the price of packages will vary greatly from provider to provider. So, if you are considering a domain transfer, it is important to first determine precisely which tools are necessary for your site.
Our domain transfer deals, competitive prices and dedicated service are ideal for businesses and individuals alike. As part of our domain transfer agreement, we can also assist with some of the online marketing of your IONOS domain, expand its reach and ensure your website is as engaging and effective as possible. With our large variety of features and products, transferring your domain with IONOS ensures a smooth transition that both larger companies and personal site owners can benefit from.
With IONOS, domain transfers are a stress-free experience, giving you the peace of mind to focus your attention on other important aspects of your online presence. The process can be completed in just a few simple steps:
Back up all the data on your existing website
Contact your existing domain provider and request your authorization code (this should be between 6 and 32 digits)
Go to the IONOS website and type your domain name into the domain checker
Enter your authorization code
Follow the registration steps and confirm the domain transfer
IONOS offers a smooth transition period so that your customers, your clients and your followers are not affected during the process. When it comes to transferring your domain, we understand that a secure, simple and hassle-free process is what our customers value the most.
As soon as you are up and running, you will receive an IP address allowing you to access your site and make any necessary changes. You can then transfer across all your old data and simply recreate your original site with your new host.Note: if you're planning to change the domain ownership information, you can do so in your current provider's control panel. If you are transferring your domain to a new host, but the registration of your domain name remains with a third party, you will then need to provide updated registration and server information to your new hosting service.
The actual domain transfer process itself is free. With IONOS, there are no additional costs resulting from moving your domain. What we will charge you for – however - is an additional full year of registration of your domain name because we automatically renew your existing domain contract. Our helpful steps will guide you through the process and make things quick and easy for you – helping you to keep your website running unhindered. Regardless of your reason for switching, we do not charge any additional domain transfer fees at any time. All you need to do is retrieve your authorization code from your current provider, ensure your attached email address is valid, and then we can begin the process. As soon as you complete your domain transfer, you will benefit from our diverse range of features and reliable service.
Transferring your domain to IONOS is a relatively quick process. Once you've received your authorization code from your current provider, things move swiftly. As soon as you check your domain on the IONOS site and enter your authorization code, you can navigate through the registration process with the help of IONOS's guiding steps in just a matter of minutes.
Once you've completed the domain transfer checkout and we receive the acknowledgement of the transfer, we will start the actual domain transfer process. This usually takes between 5 and 7 calendar days. It won't be long before you're fully operational with IONOS as your domain host.ss. As soon as you complete your domain transfer, you will benefit from our diverse range of features and reliable service.
While there are many different domain name providers, the transfer process usually looks quite similar. The first thing to take care of is backing up your current content to avoid any potential loss of data. The second step is usually to retrieve your authorization key to a secure email address that you are sure you have access to. The final step is where things may change depending on your host, but we will guide you through an easy step-by-step process. In order to transfer your domain from Wix, simply follow the instructions for the GoDaddy transfer as explained above. Once you've accessed your Wix control panel, go to "my domains", then the "advanced" tab, and finally click "transfer away from Wix". Transferring your domain name to another host couldn't be easier!
The domain transfer process can be daunting at first and we understand that one of the biggest worries is the SERP ranking, that you and your company have worked so hard to achieve, may be affected. However, as long as your actual domain name does not change and you follow the steps above, your SEO authority should be unaffected by your domain transfer. In order to avoid any confusion, we recommend not cancelling your previous hosting account until your domain transfer with IONOS has been fully processed. This way, your company site will remain active and visible throughout the transition period.
Absolutely! IONOS accepts all types of domains from .com and .org, to .me or .store, for example. This part of the domain is called the top-level domain (TLD) and IONOS works with all of them when dealing with domain transfers so you can rest assured that your domain names can be quickly and easily transferred. Not only that, but we also offer a wide variety of TLDs if you feel like either purchasing a new name or adding to your roster of names in the future. There are now more available TLDs than ever before and we can easily help you rebrand your domain name.
Despite popular belief, domain transfers are in fact a quick and easy process that can be done within just seven days. First of all, all we need from you is the authorization code from your current provider, and your current email address that's attached to your account. Double check that you still have access to your secure email account as you will receive your code via this address. We recommend that you backup all your content with your existing domain; this will not be transferred across to your new host. Once requested, you will receive your authorization code and you will then be guided through IONOS's simple domain transfer service. Our domain transfer process time should take between 5 and 7 days – once you've completed the initial checkout process and confirmed your free domain transfer, you can sit back, relax and leave the rest to us.
For more information, visit our help center.
Didn't find what you were looking for?
Maybe we still have the right solution for you.
Live Chat
Chat with one of our IONOS experts.