Register your .de domain and expand your reach
Love bread, beer, and Bratwurst? Show it with your own .de domain name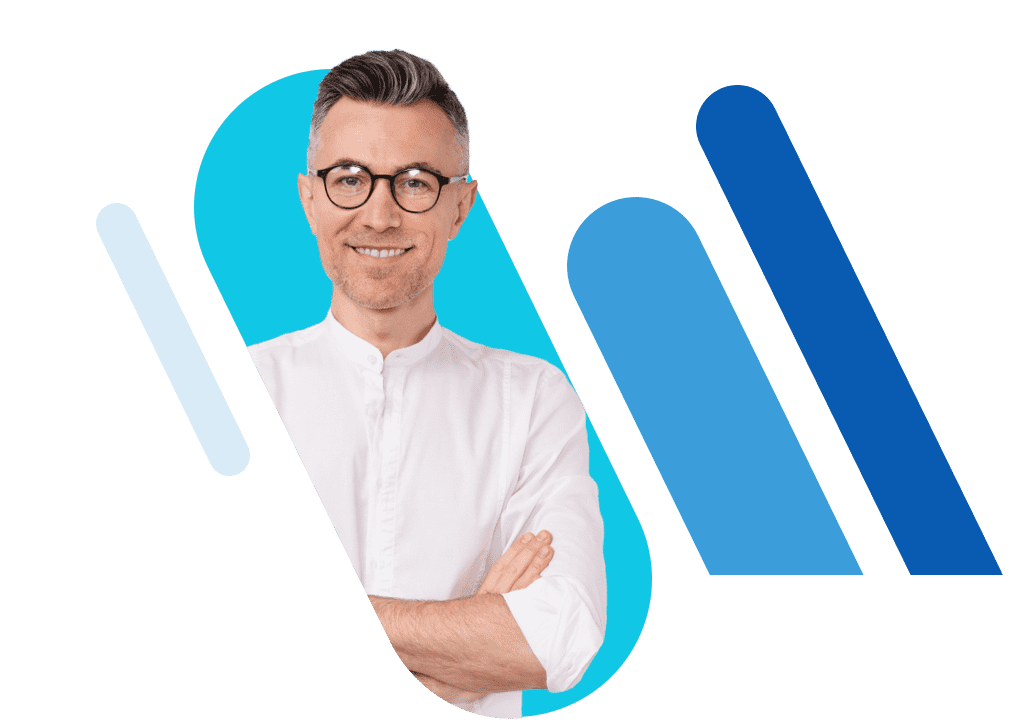 What is a .de domain?
The .de domain is a top-level domain (TLD) as well as a country code top-level domain (ccTLD) for the Federal Republic of Germany.
Formed from the first two letters of the German word for the country — Deutschland — the .de domain extension was introduced by IANA on 5 November 1986. The TLD has been managed by DENIC since 1997 and is one of the most popular domains in the world with over 17 million registrations.
Due to its age and popularity, the .de country domain is a very well trusted and authentic domain and perfect for anyone wanting to expand their reach and do business in Germany.
After all, it is one of the largest online markets in Europe. It's worth noting that you can get creative with a .de domain and use it for domain hacks such as worldwi.de, watersi.de, and lampsha.de.
Register your .de
Which purposes are .de domains suitable for?
The .de domain is a great way for your site to attract local traffic.
Buying a .de domain is a great investment if your company or website has links with Germany. Whether you like to blog about German food, the latest on celebrities across the pond, or whether you want to expand your business into the country with millions of online shoppers, you can't go wrong with a .de domain name.
Classic TLDs like .com. org, or .net are also suitable, but with the .de domain being more specific, you can project that to potential customers or visitors before they've even clicked on your site. If you already own a domain, why not buy a .de domain in addition? There is no limit on how many domains you can own. International companies using the .de domain name include amazon.de, Johnson & Johnson (jnj.de), and pepsi.de.
.de domain FAQ
Please note that this domain is subject to restrictions. Under certain circumstances, a German mailing address may be requested.
de domain registration is open to anyone; you don't have to be a resident in the country to buy one. Although you must name a trustee based in Germany who is responsible for receiving official or judicial documents. Your provider can take on this role. Your .de website will also require an Impressum according to German law that calls for a German mailing address.
There are also a few requirements to bear in mind when choosing the actual domain name. It must be between 1 and 63 characters long and can consist of letters and numbers, but no special characters. Choose a domain name that fits with your business and is easy for customers to remember. Use the de domain search to ensure it's not already taken.
The .de domain is primarily used in Germany. The DE part comes from Germany's own word for its country — Deutschland. To register a .de domain, you don't have to be located in Germany, but you do need to enlist the help of someone based in the country. As a provider, IONOS can support you with this issue. Using the .de domain shows more specificity regarding your offer instead of using a generic domain such as .com. A quick .de domain lookup will help you decide on your desired domain extension.
The journey to your .de domain name is made even simpler with the help of IONOS. Simply use the .de to see if your desired .de domain is available or use the integrated .de to receive suggestions if you aren't 100% sure of your domain name.
However, make sure that you don't infringe on another brand's copyrights. If your desired domain has not yet been registered by any other party and all other prerequisites in accordance with DENIC's Domain Guidelines have been met, the domain is yours and you will receive confirmation. .de domain prices with IONOS are $9 for the first year and then $15 for each year thereafter, making it a cheap .de domain option.
The registration of your .de domain renews automatically unless you cancel it. With .de domain hosting from IONOS, you also receive your based on your domain name. You can also combine add-ons to your .de domain plan such as or the .
Your personal consultant
Helpful advice from a single point of contact. Exclusively for you. Experience customer service on a whole new plane. All this and more, free.
Learn more
Live Chat
Chat with one of our IONOS experts.