Get a .ca domain name for your website
Register a .ca domain and reach more Canadian customers.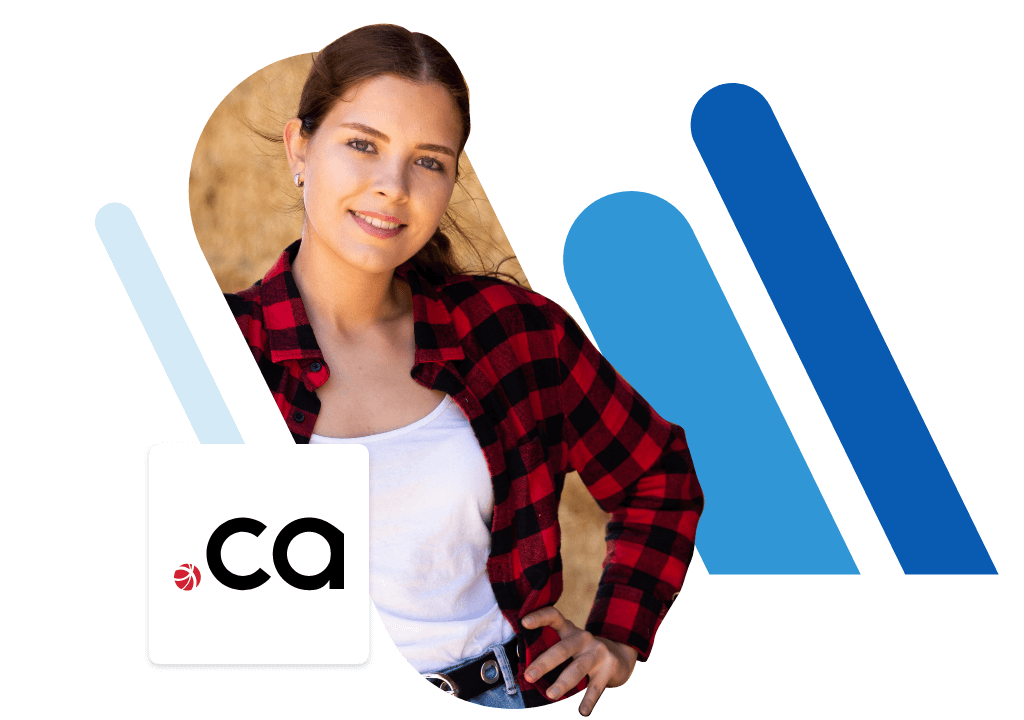 What a .ca domain registration means for you
The meaning of the .ca domain
The .ca domain name is the top-level domain (TLD) for Canada and has existed since 1987. Although first set up and operated by volunteers from the Computer Science department at the University of British Columbia, CIRA has been the registry of .ca since November 2000. Operating as a member-based not-for-profit organization, CIRA works to optimize the Canadian internet performance and experience, including by managing the .ca domain. However, they don't sell domain names directly to users. Instead, companies and individuals looking to strengthen their brand in the Canadian market can register a domain through certified .ca domain registrars, like IONOS. Doing so is a great way to demonstrate your dedication to serving the Canadian public.
.ca domain special features
The .ca domain name is reserved solely for use by Canadian citizens or by companies headquartered in Canada. There are different requirements that must be satisfied in order to register a .ca domain. Most importantly, individuals need to demonstrate they are Canadian residents, while companies must provide the details of their commercial registration number. Brands with a presence in the country can also become registrars provided they have a trademark in Canada.
How can I register a .ca domain?
With IONOS, you can secure your very own .ca domain name in just a few easy steps. First, you need to check to see whether your domain name is available. To do this, simply type it into the search slot at the top of the page and run a quick check. If the name's already taken, you will be offered some available alternatives, such as synonyms of your original term or slight variations on it. Once you've selected the available name you want to use, you just need to follow our quick registration instructions to complete the process.
All the benefits of .ca domain names at a glance
| | |
| --- | --- |
| .ca Domain Features | Available |
| Minimum and maximum length | 2-50 characters |
| Registration duration | Approx. 1 day |
| Email account and mailbox | |
| Unlimited subdomains to structure your website | |
| 1 SSL certificate per domain included | |
| Advanced DNS management | |
| Whois domain data protection | |
| 24/7 customer support | |
| Quick and easy domain setup | |
| Protection from domain theft and squatting | |
| Migration of existing .ca domains to IONOS | |
| Special offers for IONOS customers | |
Couldn't find what you were looking for?
Check out these other great solutions.
Live Chat
Chat with one of our IONOS experts.