Free Server Hosting
At IONOS, you can test VPS and Managed Servers for free thanks to our 30-day money-back guarantee. For Cloud Servers, we offer you starting credit for the first month — the whole process is very straightforward.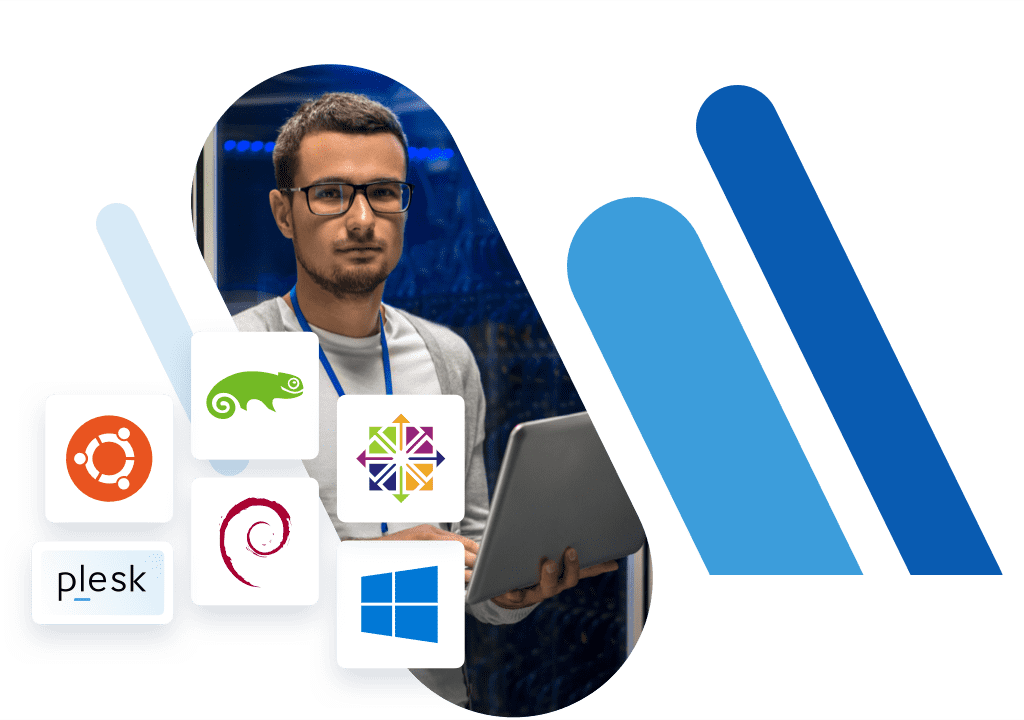 Server hosting for free: 3 models to choose from
VPS Hosting
Dedicated, virtual capacities with guaranteed availability — suitable for all your projects. Your data is hosted in secure data centers and is subject to high data protection standards.
Cloud Server
Cloud solutions are highly scalable, can be individually configured (even during operation), and are therefore the right choice for both simple websites and complex IT infrastructures.
Managed Server
Benefit from powerful servers without any of the administrative work. We take care of everything so that you concentrate on your website projects. Picture this: no performance loss, but first-class structure.
6

months
$
40
/month
then
$60
/month
Your free server hosting comes with two money-saving options
At IONOS you can host your servers for free with our two different discount models.
The 30-day money back guarantee
Try out the Managed Server and VPS
Our two models, VPS and Managed Server, can be tested for 30 days, meaning you get IONOS free server hosting 24/7 for one month — without any obligations.
If you do not want to continue to use either of the models, you will get your money back because your satisfaction is very important to us. Not many other hosting providers offer a promise like this.
Starting credit in the first month
Test the Cloud Server extensively
If you opt for a Cloud Server from IONOS, we want to make sure that the beginning especially is as convenient as possible for you so we will give you starting credit for the first month.
Depending on your usage, you can enjoy server hosting free of charge for one month. If the resources you book exceed the starting credit, you will only have to pay the additional costs. You really can't go wrong with this discount offer!
Your personal consultant
Helpful advice from a single point of contact. Exclusively for you. Experience customer service on a whole new plane. All this and more, free.
Learn more
Free server hosting services with many advantages
Performance
During the period when you use the server hosting for free, there's no limit to how much CPU, RAM, and bandwidth you use. With a Cloud Server, you only need to make sure that the booked resources do not exceed the amount of the starting credit.
Storage
Depending on the product you choose, you have either SSD or HDD at your disposal. You don't have to worry about having enough storage space for your website with free server hosting: IONOS' servers offer from 10 gigabytes to up to several terabytes of storage.
Operating systems
Free server hosting is possible with Linux as well as with Windows. For VPS and Cloud Servers, you have the option to choose between the two operating systems. With Managed Servers, IONOS takes care of the administration for you.
Support
If you encounter any problems with the free server hosting, IONOS offers 24/7 customer service. This around-the-clock support is included in the offers, so you don't have to worry about additional costs if any questions arise.
Security
IONOS continuously invests in IT security meaning your data is protected from attacks thanks to our product-specific security measures. That's why we are one of the most secure free server hosting providers online.
Data protection
Our data centers adhere to high data protection standards. You can choose whether you want to use a data center based in the US, UK, Germany, or Spain for your free online server hosting.
More appealing options for you
In addition to the products already mentioned, IONOS also promises a 30-day money-back guarantee if you make use of web hosting offers.
Web hosting
A good solution for your website — with enough online storage and an individual domain, you can start directly on the Internet. The whole process is quick and very uncomplicated.
Web hosting
Free Server Hosting – FAQ.
The dedicated servers from IONOS are especially useful for those interested in very high performance. Large companies, in particular, find these solutions especially appealing and, in addition to the high performance and the dedicated hardware, appreciate the flexibility. You can assemble the dedicated server as required. We have already put together some suitable plans, so you don't have to start from scratch:
AMD Servers: Servers with CPU from AMD are suitable for particularly demanding tasks because they offer both high single-thread and multi-thread performance.
Intel Servers: If you are looking for servers with powerful processors and innovative technology, Intel CPUs are just what you need.
Storage Server: Fail-safe servers for storing very large amounts of data while maintaining high security for all your data.
All dedicated server models work according to the pay-as-you-go principle, meaning you only ever pay for what you have actually configured.
Thanks to the 30-day money-back guarantee, you can test both products for one month and get your money back if you don't want to continue using them. There's also a second deadline to keep in mind — there's a 14-day objection period for each product. So it's possible to rescind the contract within the first two weeks.
Otherwise, you can cancel IONOS contracts at any time. However, pay attention to the possible minimum contract term. The cancelation period here is one month. So let us know in good time if you do not want to continue on with the contract.
First, you can make use of your right of objection within the first 14 days so you can simply withdraw from your contract with IONOS.
But even after this period has elapsed, you have the option to easily terminate the contract because the Cloud Servers do not have a minimum contract period. Regardless of whether you want to enjoy free Windows server hosting or have chosen the Linux variant — as soon as you delete the Cloud Server, you won't incur any further costs. This also applies if your starting credit has already been used up.
Cloud Servers at IONOS work according to the pay-as-you-go principle so you only pay for what you've used — billed to the minute. That's why you don't have to terminate the entire contract. All you have to do is delete the server, and you won't incur any more costs. Only when you start using resources again will you be charged.
You might also be interested in: