Transferring a Domain to IONOS as a New Customer
If you are a new customer, this article will show you how to transfer your domain from another provider/registrar to IONOS, to create an IONOS account and choose a contract that is right for you.
If you are already an IONOS customer, please continue reading here: Transferring a Domain to IONOS as an Existing Customer
Additional Information
One of the key benefits of transferring your domain to IONOS is that any remaining time on your current registration period will be added to the registration period you choose with IONOS during the transfer process. This benefit applies to any domain extension allowed to be transferred into your IONOS account.
For example, let's say you have 3 years of registration period remaining for a domain registered with another provider, and you would like to transfer it to IONOS. If you register the domain with IONOS for another 3 years, your domain would then have a 6 year registration period.
Summary
The domain transfer consists of two steps:
The first step is to prepare your domain for the domain transfer with your old provider and access the authorization code.
The second step is to start the domain transfer with IONOS and confirm the transfer with the authorization code from step 1.
Preparing the Domain Transfer
Depending on the domain extension (.com, .org, .nyc, etc.), different requirements must be met before you can access the authorization code and transfer your domain to IONOS.
Starting the Domain Transfer and Creating a IONOS Account
Start your domain transfer with IONOS, enter the authorization code, create a IONOS account and select your package.
Open the page IONOS Domains > Domain Transfers.
Enter your domain in the text box and click Transfer.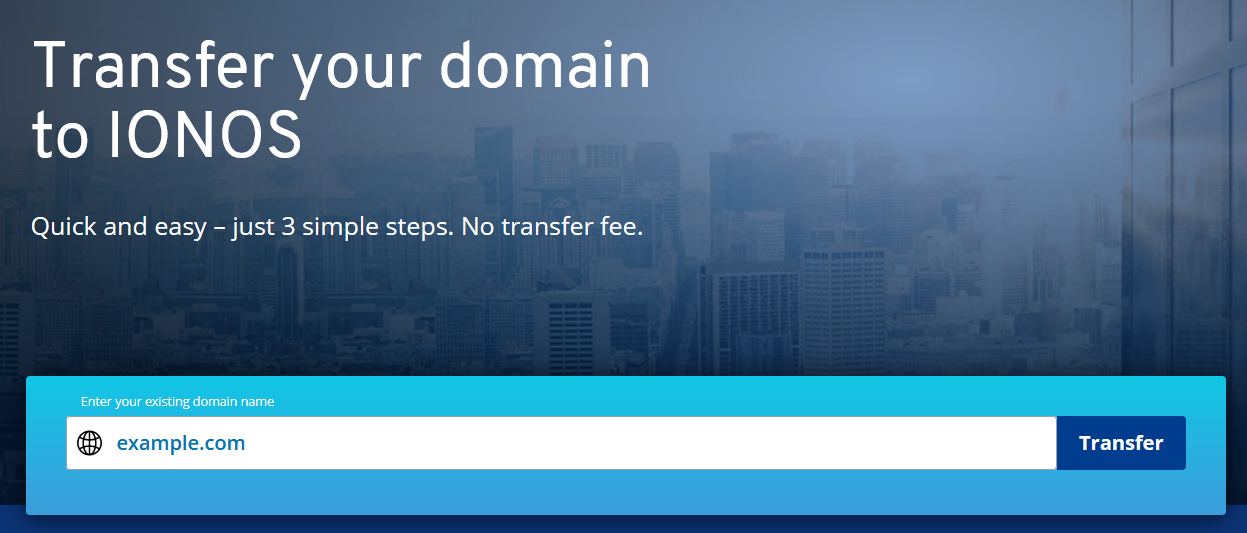 The domain transfer assistant will open.
In the Authorization section, enter the authorization code for your domain that you obtained from your old provider.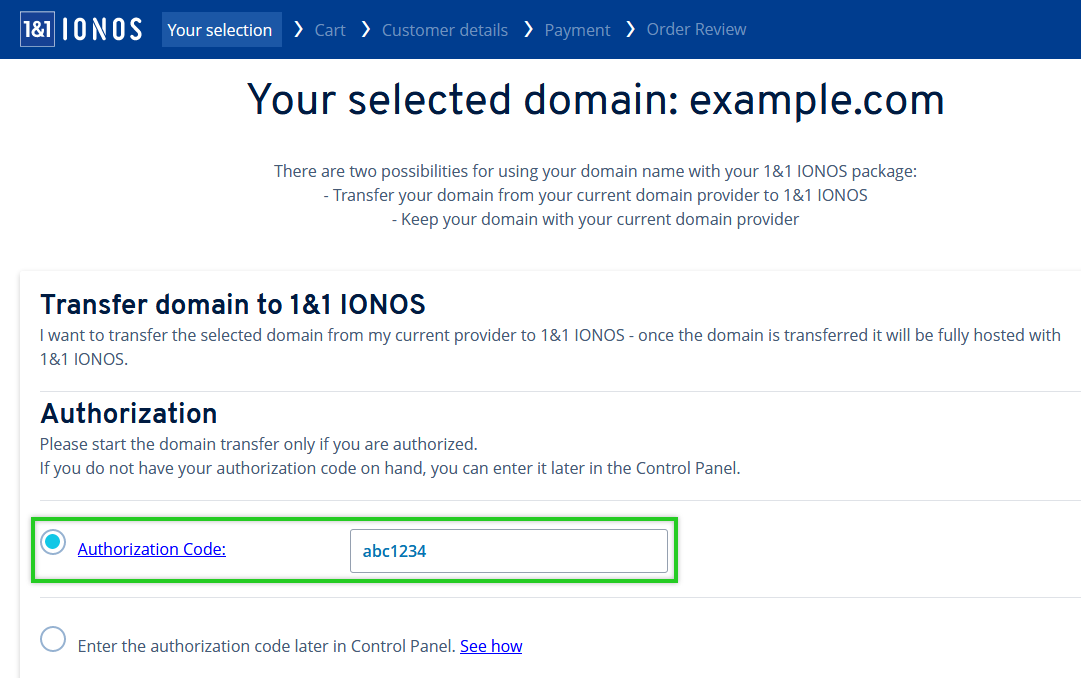 You can adjust the DNS settings for your domain in the Select your Nameserver Settings section:
My DNS settings will automatically be switched to IONOS name servers (Recommended)
If you want to use your domain with IONOS products and services and the domain is not yet connected to a service, application or website.
I want to keep my current DNS settings
If you want to continue using your domain with an existing service, application or website without interruption. Of course you can edit the DNS settings at any time.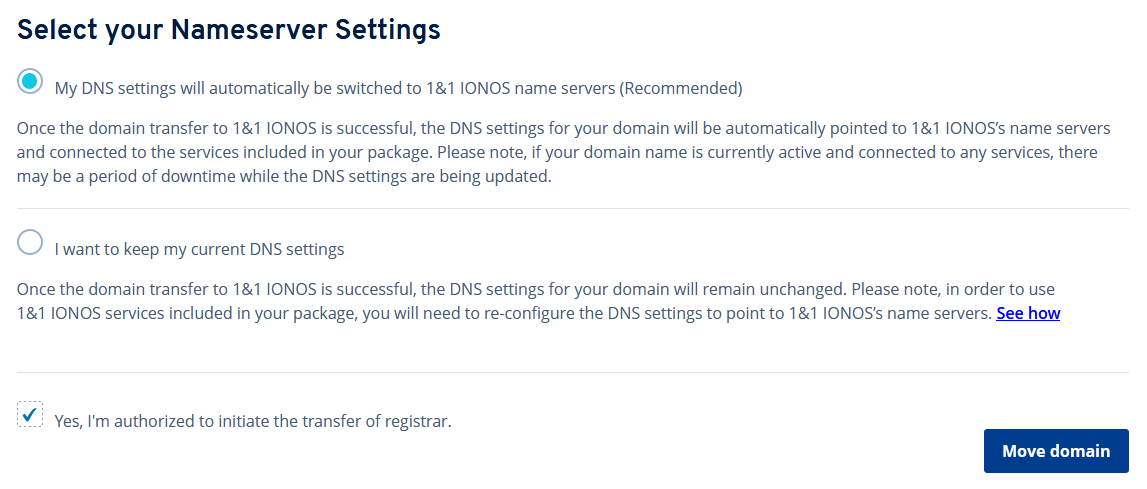 Check the box next to Yes, I'm authorized to initiate the transfer of registrar.
Click Transfer Domain.
The contract selection window opens.
To complete the domain transfer, click Continue to cart in the Domain only section.
Alternatively, you can take advantage of the special offer.
If you are unsure, start with just the domain transfer – you can always add to your account later.
The shopping cart will open.
Check your selection and add additional products if needed.
Click Continue.
The Customer Details page will open. You can now create a IONOS account.
In the I am a new customer section, click Create new account.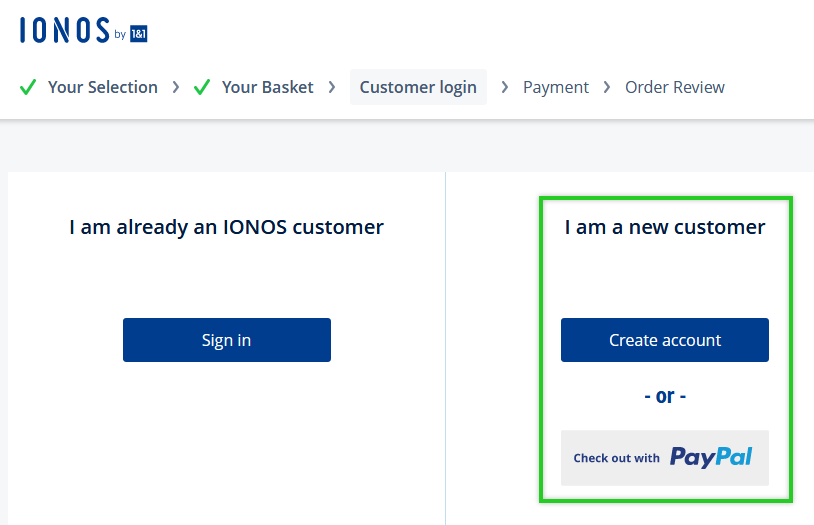 Enter your customer details and payment details on the pages that follow.
You will receive a final order review.
Read the Terms and Conditions (including the cancellation instructions) and check the box next to I have read the General Terms & Conditions...
Click Order Now.
Your domain is now transferred to your new IONOS contract. We will send you an email with all information relating to your order and your domain transfer.
---