You can use subdomains to structure and organize the various sections of your website under the same domain. By doing so, you can guide visitors directly to specific content on your website, such as a different language version, a shop, a photo gallery, or even another branch or department of your company.
Structuring Website Content Sensibly
You can choose how you want to link each individual subdomain to website content. For instance, you can connect a subdomain with a specific directory to your webspace and use a second subdomain with domain forwarding to provide a link to any other URL.
If you want to provide a link to an external website service such as Shopify or Etsy, IONOS helps you set up this connection with ease using our optimized setup assistants. This is also just as easy to do for other websites and social media services like Tumblr or Facebook.
Having well-structured website content leaves visitors and customers alike with the impression of a very accessible and professional web presence, and with a matching IONOS email address, you can complete this impression perfectly.
The following example shows one of the many possible ways in which your online presence with subdomains and matching email addresses can be presented.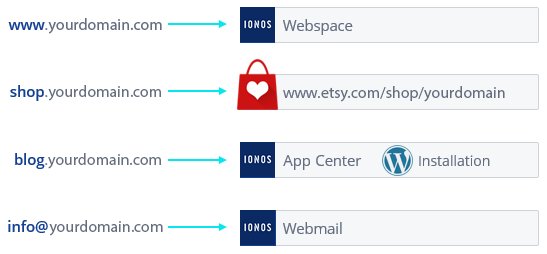 Creating a Subdomain
Subdomains do not require registration since they are created for existing domains. You can have up to 10,000 subdomains per IONOS contract.
You can find more information and further instructions in the article Creating a Subdomain.
Using a Subdomain
After successfully creating a subdomain, it can now be connected to your site's content with the Use Domain action.
In the Manage Domain section, you can find many different actions, information, and other helpful topics. The information provided there is generally applicable for both domains and subdomains.
---