Transferring a Domain to Another IONOS Contract (Same Customer ID)
This article will show you how to transfer your domain to another contract under the same customer ID in just a few minutes. This may be necessary, for example, if a certain product requires that the domain be contained in the same contract or if you want to consolidate contracts.
Benefits
Domain transfers within the same customer ID can be executed almost completely automatically. This has the following benefits:
Transfer in just a few minutes: Avoid long wait times, which often occur when transferring domains to another provider.
The private registration and domain transfer lock settings are automatically carried over. You do not have to make any adjustments during the domain transfer.
Effects
The domain transfer affects the settings and connected products:
Your domain's destination is reset.
Tip: After the domain transfer you can edit your domain's destination.
Connections to email clients are broken until the email addresses are recreated in the destination contract.
Any associated email addresses are renamed as backup addresses. You can find instructions on how to migrate emails between the backup address and the recreated address here.
Starting a Domain Transfer in Your IONOS Customer Account
You can start the domain transfer to another contract under the same customer ID from your IONOS Customer Account by following these steps: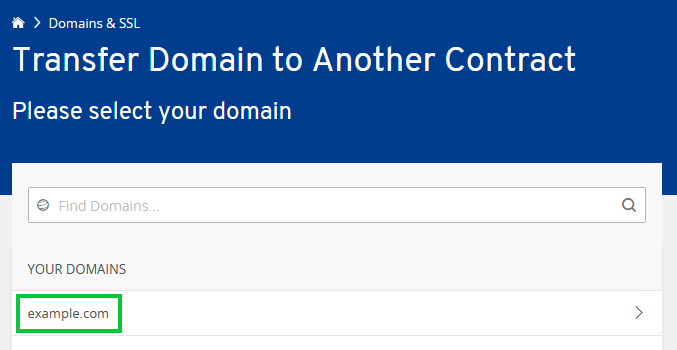 Choose the destination contract for your domain.
For example, the destination may be a contract that contains a certain product or an available, cost-free included domain. This lets you consolidate your domains to keep better track of them or to take advantage of beneficial pricing on the other contract.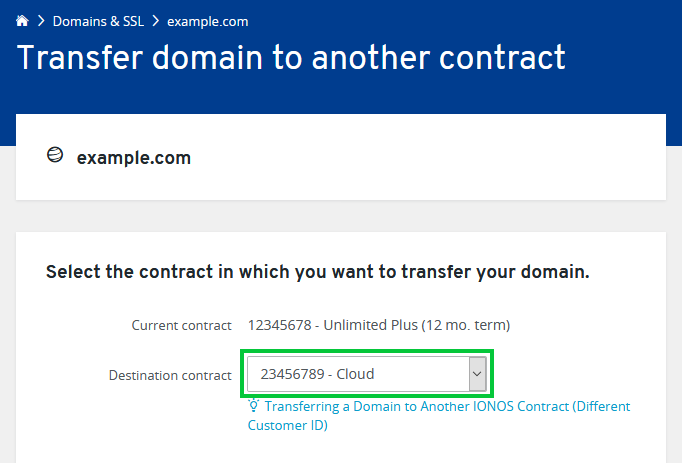 The remaining procedure will depend on whether you are transferring an additional domain or an included domain.
Transferring an additional domain: Check the box I have read and agree to the effects... and click Transfer Domain.
The domain is immediately transferred to the new contract. This completes the domain transfer!
Transferring an included domain: Click To the Shop.
You are redirected to the IONOS Shop where you can complete the domain transfer.
Completing a Domain Transfer in the IONOS Shop (Included Domains Only)
In the IONOS Shop, choose your name server settings and then confirm your domain transfer. This step is omitted if you are transferring an additional domain.
In the section Select your name server settings, select the option I want to keep my current DNS settings.
Check the box next to Yes, I'm authorized to initiate the transfer of registrar.
Click Move domain.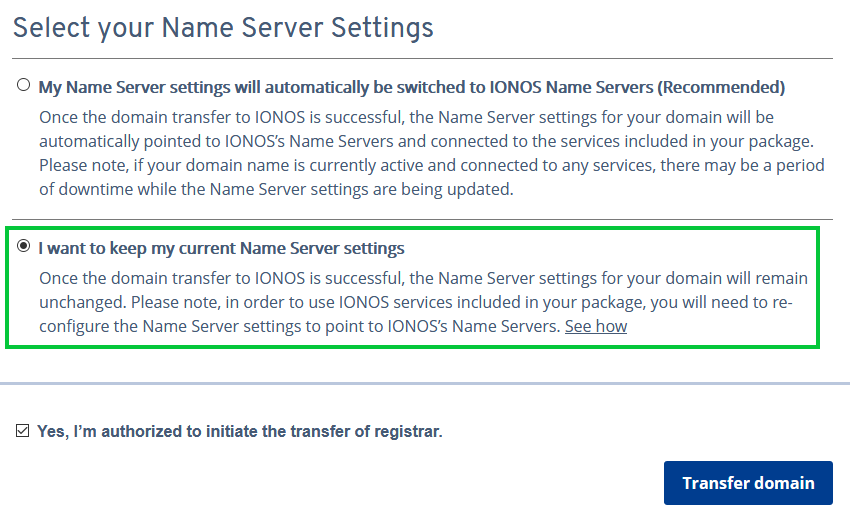 On the next page you can check your order and your customer details.
Check your order, scroll to the bottom, and click Next.
Check your customer details and click Continue to Checkout.
You will now receive a summary of your purchase.
Read the Terms and Conditions (including the cancellation instructions) and check the box next to I have read the General Terms & Conditions...
Click Order Now.
---